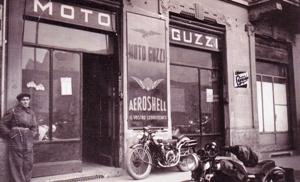 The brand Tronconi & Novelli has a historical tradition in the motorcycling world in Milan.
The company was set up in the year 1935 as "Tronconi & Zanoni" and was one of the major Moto Guzzi official dealers especially for three wheelers. Their commercial achievements were outstanding and in 1942 the magazine "Motociclismo" dedicated an article to the firm whose "new headquarters occupied an area of a few square miles".
The founder Luigi Tronconi was defined as "one of the most important representatives of the shining period of Italian 'regolarismo'. He began his activity in April 1926 at the time of the famous Giro d'Italia, a great national competition which then was the major event in motorcycling.
In the 1950s "Tronconi & Zanoni" left Moto Guzzi for Aermacchi, a brand at the time starting its successful career in the Italian motorcycling industry; since then the firm has loyally followed their transformations and successions of brands, Harley Davidson, Cagiva ....
At present Tronconi & Novelli they have associated the brand Motocicli Veloci which produce and distribute high quality parts and accessories for the best teams and drivers of classic racing bikes. Each part is produced according to the original pattern with the aid of the most modern technologies; great consideration is given to selection of materials, customized dimensions and functional details. Moreover the firm's great flexibility in production allows them to satisfy any customer's requests, ranging from a single piece to a whole series.